Should you seek private instruction?
A question we get a lot in music retail is whether or not private lessons are needed.  This is raised by adults picking up an instrument for the first time (or first time in a while) and parents of high school, middle school, and beginners.  Hopefully, this will clear up some of your questions.
Beginners
When your child is first starting an instrumental music class (whether orchestra or band), we do not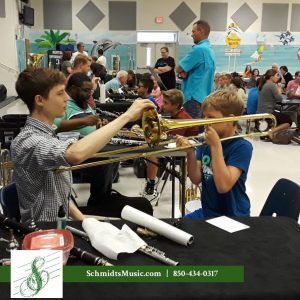 recommend jumping right into private lessons.
Here are a few reasons why it isn't recommended:
-Most students will quickly become bored with the class instruction as lessons can cause them to progress faster.
-A private instructor may teach differently than the preferred method of the director.
-This can cause frustration on the part of the student and the director
-The director has specific, tried-and-true methods to get their students started.
The only exception would be if after your student has played for a few months and they are falling behind in the class.  That is a perfect time to look for a teacher.  Another facet is if your student (violin in particular) is too young for school system music class, private lessons will be your only option.
Middle School
Lessons can be taken into consideration if your child has been playing for a year or more, but it would not be a necessity.  The caveat would be if they were falling behind and getting discouraged — lessons are preferable to your student quitting music.  Once your child is out of the beginning class, they will have more opportunity to flourish and benefit from private lessons.
Opportunities like:
Competing in Solo & Ensemble
-A chance for your student to work up a solo piece and perform it for a judge to receive scoring.  High ratings are eligible to compete at the state level.
-This occurs once a year – usually in the spring.
Selected for the All-State group
-An audition-based group selected from students ALL OVER the state.  This exists for middle and high school level students.
-This group only performs one time per year and every year is a new selection and occurs in January.
-Most schools have multiple band/orchestra classes in which students audition for placement.
-This normally happens at the end of the school year in preparation for the upcoming one.  This audition will decide what band your child will fit best.
-Even if your child's school only has one band/orchestra class, there is still the opportunity for high chair placement.  This simply means ranking higher in the section.  The "first chair" player is the one who scores highest in the audition, plays first part, and could occasionally get a solo.  This may look like Greek to you, but I guarantee your child knows about chair placement.
Playing multiple instruments
-The students chosen to pick up additional instruments are usually those highly proficient on their main instrument.  Meaning if you are really good at playing clarinet, the band director might ask you to double on oboe.  Lessons can present this opportunity for your student or it could even be something you want to research once your child picks up a second instrument.  Private instruction can help your student get up to speed on the new instrument.
Your student will have more opportunities to excel and lessons outside of the classroom will only help those goals be achieved!  Of course, it isn't necessary because practicing on your own can do wonders, it's just an option!
High School
This is almost too easy to provide reasons for you.  Every high school students should study privately.
Lessons are very beneficial for these reasons: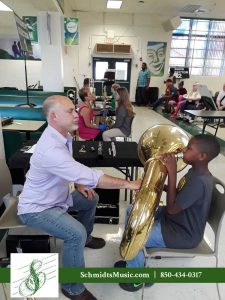 -Great way to prepare for college.
-One-on-one instruction is perfect for discovering the more abstract side of music
-With several years of music under their belt, your student will have a high level of musical maturity.
-Being older, your student will have a longer attention span and a high retention rate.
-Everyone needs accountability and lessons will do that for you.
-High school students are more capable to practice and take lesson notes without mom or dad having to hold their hand to make sure it happens.
-Even if your student isn't going to play music in college, you will be surprised how much can be learned outside of the organized music class.
Adults
If you are an adult and either picking up an instrument for the first time or getting back into playing after some time off, lessons are a necessity.  In fact, I would make sure you secure an instructor before getting an instrument.  This is good for several reasons.
-Structured practice time
-One-on-one interaction
-Point out technique errors
-Keep bad habits from being learned
-Make sure you work with your teacher
-Someone to keep you accountable
Deciding to "self-teach" can be detrimental because a YouTube video cannot comment and let you know that you're embouchure or hand position is wrong.  Small issues like that will be very difficult in the long run and retraining yourself will be a hassle.  Lessons won't be necessary forever, but that one-on-one time can really benefit you and help you stick with it.
***
Lessons are a good investment if done at the right time.  Another perspective can help you mature as a musician and also salvage your playing career if you begin to get fed up with your lack of progress.