Doug Holsworth is a well-known name in the band world.  Recently he made the shift from teaching at Escambia High School to Pensacola State College and taking over for Don Snowden.  What prompted the change?  What does he do for fun?  Let's take a look at the man behind the baton!
1. How long have you been teaching? Where was your first teaching position?
This is my 30th year teaching. My first band directing job when I got out of the Army in 1992 was at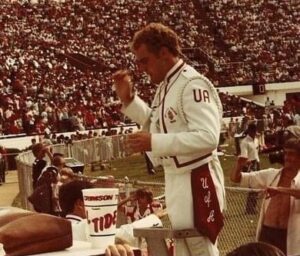 DeSoto County High School in Arcadia, Florida.
2. What prompted your decision to teach at the collegiate level?
I have been looking to move to the collegiate level ever since I got my Master's degree in 2010 from the University of Florida. My graduate advisor really leaned on me to take a fellowship to pursue my Doctorate, but my career and financial situation at that point prevented me from taking UF up on the offer. That planted the seed of the idea of moving to the next level, though,  so I started looking at two year institutions since most of them only required a Masters degree. Up to now, though, I had always lost out on the jobs to folks who already had that Doctorate.
3. After so many years teaching high school, what has been the biggest adjustment for you?
The biggest difference has been the less stressful schedule and demand on my energy that teaching in a high school entails.  As a high school band director/music teacher, you get used to an absolutely frenetic pace, completely changing instructional gears every 50 minutes with only 3-4 minutes to reset for the next of 6 classes which can be as different as going from your top jazz band to a room full of beginning guitar players.  Along those lines, there is the physical toll on you when you do a Friday night football game out of town, then get back on the bus the next morning with the band to go to a competition that will last until 9 or 10 pm, then arrive back at the school in the wee hours of Sunday morning. Then you get up at 6 am Monday to be at school on time and start that cycle all over! The luxury of spending nearly all of my time focusing on what I know is truly the most important stuff has been awesome.
4. Taking this position also included becoming the new director for the Pensacola Civic Band.  Has working with adults presented new challenges?
There is a difference in the approach you take when you are working with adult volunteers versus students; part of your mission as a college director is to make sure the students are getting the curriculum and background in the literature they should be studying in your ensemble. With the Civic Band, the mission is one of community service and entertainment, so the criteria for programming is not the same. There is also a very different relationship between an instructor and a student as opposed to a director with an adult volunteer; the tools you use to motivate and coach a musician come out of a different toolbox when you are working with adults instead of students.
5. What plans do you have for the future of the PSC music department and the Pensacola Civic Band?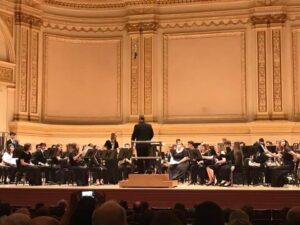 My biggest goal coming out of the pandemic is to recruit and recover the size of the ensembles; the lockdowns and restrictions on live, in-person performance really cut down the folks participating in every performing arts ensemble and organization worldwide.  It is amazing and a testament to the human spirit that live music and performance stayed alive at all through the past two years, and I want to take what we have and regrow these groups.
6. What do you most look forward to as you settle into this new job?
It is fantastic to get to work with so many people I have known and admired as musicians throughout the years, and to perform music at the next level of quality and maturity.  I had so many special moments as a high school band director in which a student or a band blossomed into a new level of maturity; now I get to pick up where that left off and keep striving for more profound artistic statements!
7. Is there a particular hobby that you use to unwind?
A couple: From time to time I trod the boards as an actor/singer in theatrical productions around town. However, the thing that kept me sane through the lockdowns was painting at the beach; so much so that I have developed a side gig as an artist/instructor at the local Painting With a Twist art studio.
8. Who has been the biggest influence on your career thus far?
That – is a tough question. So many band directors over the years have been so generous with their time and expertise and have helped me hone my craft that I hesitate to single one person out.
9. What has been the most rewarding aspect of teaching for you over the years?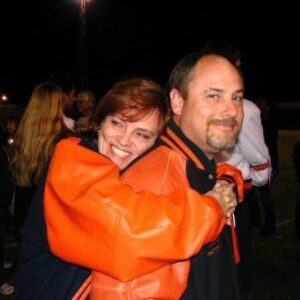 The coolest thing is when someone contacts me out of the blue who was a student from years ago, and they credit me with making them a better human. Somehow, it seems to happen when you are having one of those days wondering if you can keep fighting the good fight.  Then you get a Facebook message, or someone walks in your office to shake your hand, or they stop you in the grocery store and say "Remember me? You changed my life." It truly makes it all worth it!
10. How would you describe your musical background?  In what ways does it make you a better musician and educator?
My tastes are extremely broad; I gravitate toward whatever is done with quality and artistic integrity regardless of the style or genre. I think this is an asset as both a musician and an educator because I get to reap the rewards of a huge range of musical influence as well as relate to a broader spectrum of students who have very different musical experiences, languages and backgrounds.
11. Is there an interesting/little-known fact about yourself that you'd like to share?
I am a big video gamer and have been ever since Pong (remember Pong?) debuted in the mid-1970s.
12. What advice would you give someone just starting their teaching journey that you wish you had known when you started out?  (Key lessons learned along the way?)
Get help. Reach out to folks who are getting the job done, get them in your band room, listen to what they have to say and don't be thin skinned when they have something critical to share about your teaching. When you experience failure – AND YOU WILL – be ready to look in the mirror to learn the hard but valuable lessons that failure has to teach.
13. If you were talking with someone who knew nothing about music performance and/or education, how would you describe what makes your field special?
If I could describe it, we would not have to perform live music. Where words fail, music speaks. (Hans Christian Anderson)