We were very fortunate to have Dr. Brittan Braddock take the time to answer these questions in an interview as she ended her first year at UWF and was preparing to begin her second.  In the short time she's been in our area, she has already made leaps of advancement for the Department of Music at the university and as you will read, she has plenty of goals for the future!
1. What made you decide to apply at UWF and then move to Florida?
Thanks for giving me the chance to answer these questions!  When I saw the job posting for UWF, I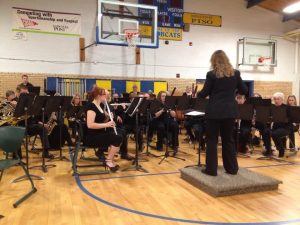 immediately thought that it would be a really great fit for me.  I am passionate about wind band, conducting, music education, and clarinet and this is the only job that was posted last year where I could continue in all of those areas in one position at the collegiate level.  I did a lot of research before I applied (and especially once I received an interview) and kept seeing so much potential to build a terrific band program here because of the wonderful music education already happening in District 1 and surrounding region.
I felt an immediate connection with the UWF Music Department faculty at my first Skype interview and it was only strengthened in my on-campus interview.  In my interview here, I was really impressed with the students: I could tell that the band students that I met and worked with were really interested in building something special.
2. How different is Florida from where you were previously?
Florida has a lot more humidity than Colorado!  However, I grew up in Houston, Texas so I was well prepared for the change in climate.  I am enjoying the beauty here — the beaches are awesome and I'm enjoying learning about the history of Pensacola/surrounding area.
3. How would you describe your musical background? In what ways does it make you a better educator?
My grandfather was a song-leader in our church as I was growing up.  We sang 4-part acapella and he had one of the most beautiful voices that I've ever heard.  He essentially 'conducted' the congregation and I remember wanting to be like him.  He played piano by ear and we always had music in our house and were encouraged to sing and study an instrument; I took piano lessons but was made to choose between piano and softball in the 3rd grade… I wish I could go back and make the choice to have continued piano!  I started playing saxophone and then switched to clarinet when I changed schools in 5th grade (because they didn't start saxophone).  I'm really glad that I changed to clarinet because I fell in love with the instrument and just started learning as much as I could.  I was really lucky because my Elementary/MS band director was a clarinet player.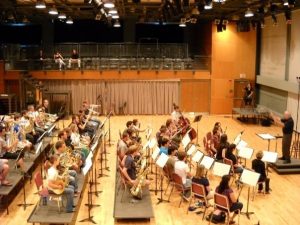 When I went to high school, I really enjoyed my new band director Mr. Crenshaw.  He passed away at the semester break during my freshman year and it was really difficult for the band.  One of the upper administrators in the school, Don Christian, had a masters degree in conducting from CCM and took over rehearsals for the spring semester.  This semester with him really changed my life, deepened my musicianship, and helped me understand that band was about more than music, much more about human connection.  I became a drum major for the newly formed marching band my junior and senior years, conducted the spring musical, and performed (clarinet and tenor sax) in any group that I could.  I was able to make a deal with a local community band, The Gulf Coast Community Band, that met at my high school: I joined the group and got a free clarinet lesson every week in preparation for college auditions.  I am forever grateful to the people in my life that helped me, taught me lessons, and inspired me to chase my dreams.
These experiences shaped me into the musician and educator that I am today.  I had a strong foundation of conducting, rehearsing, performing because of my school programs, and had a lot of opportunities to experience music at a high level before going to college.  I loved my undergraduate experience at Concordia University Chicago, and experienced one of the best orchestras–the CSO–in the world every weekend for 5 years (student tickets were only $10 and I would sit in the choir loft balcony when I could so that I could see the conductor).  I then taught in inner-city Chicago and learned so much about teaching and life and then moved to take a band position at Custer County High School in Westcliffe, Colorado.  I have a great love of the mountains and really enjoyed those years at CCHS.
4. Who is someone you try to emulate in your performing and teaching styles?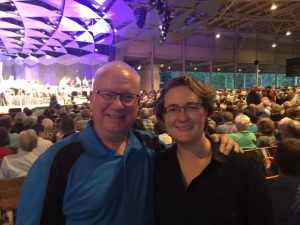 This is a very tough question to narrow down.  Everyone that I have worked with has inspired me to think about music in a slightly different way.  If I had to narrow it down, I would say Jack Stamp is someone that I really admire and look up to.  He was a great teacher for me in my masters degree at IUP.  He has incredible ears and thinks about music as a composer as well as a conductor.  I feel that he gave me a lot of insight into the compositional process and that allows him to rehearse and answer those 'why' questions naturally.
He continues to perform as a percussionist in addition to a highly successful career as a conductor and composer.  He is also incredibly generous.  One of my favorite memories was traveling with him and my fellow graduate conducting studio member, Ben Blasko, on a weekend trip to see two incredible orchestras: The New York Philharmonic and the Boston Symphony.  We did this after performing at the Pennsylvania Music Educators Association conference.  It was really a special experience getting the opportunity to experience high caliber musicians and conductors.  We had great discussions in the car between those experiences and he also invited me to spend a week at the Tanglewood Music Festival where we watched every rehearsal and concert that we could.  He brought along his scores for the rehearsals and is one of those people that will be a forever student.  That is something that I strive to be: a forever student.
Dr. Donald McKinney, DOB at CU, has also been an incredible inspiration in my life.  He is an amazing musician conductor, has terrific ears, and approaches music in a unique way.  He taught me so much in my three years at CU and I'm really proud to have worked with him during that time.  He was a teacher that inspired me to find my own way, my own style, and my own voice.  It was during my time at CU Boulder that I began to synthesize all that I had learned.
5. What is your favorite aspect of teaching? Most rewarding?
These are difficult questions!  There is a moment that can happen in rehearsal where the ensemble comes together to solve a complex problem.  It may have been a transition we've been working on for an extended period of time, or it might be something in the moment where we all have to make a slight adjustment based on what we're hearing.  Then, the members of the ensemble look up and have this joyful 'we did it' expression.  That is rewarding to me.  I love the spontaneity and musical risk-taking that occurs at our concerts, but most importantly I love the human connection and community as we gather as musicians.
6. If you hadn't chosen clarinet, what instrument do you think you would have played?
Well, I started on the saxophone for a few weeks and then switched to clarinet as I mentioned before.  If I could go back, I would choose cello or bassoon.  I love playing bass clarinet because of the range and function but love the timbre of the cello and bassoon.
7. Is there an interesting/little known fact about yourself that you'd like to share?
Back to high school for a moment… I was slightly rebellious and got sent to the principal's office occasionally… during band.  After my freshman year, we got a new band director and it was his first year of teaching — I buy him a beer every year at Midwest because I was a bit of a problem.  But, when I went to the office, I was sent to Don Christian, the conductor that really inspired me.  He knew I was interested in conducting, so he taught me Elizabeth Green conducting exercises and we studied scores of standard wind band repertoire together at those times.  Honestly, that was an incentive to keep going to the office, haha.
8. What is a hobby you use to wind down after a particularly challenging day?
I love to fish!  I've enjoyed learning how to fish here and still have a lot to learn.  I just bought a paddleboard so that I can fish the flats in the area.
9. After a full year of getting settled at UWF, what are some of your short-term and long-term goals for the music department?
I have many goals for the band and music education areas; we have already made so much progress and I'm looking forward to the future.  I believe that we can build an incredible program at UWF.  There are so many exciting things happening in the Department of Music and we have a lot of momentum to continue to make impactful change resulting in growth.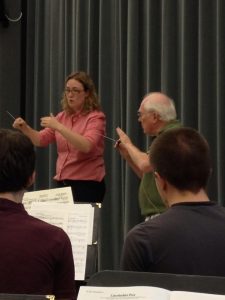 Short-Term Goals for the Band/Music Education Areas:
– Launch the Argo Marching Band in the Fall of 2021
– Provide a great experience for music majors and non-majors in our ensembles and grow!
– We founded the UWF student chapter of NAFME (National Association for Music Education) to provide student leadership opportunities.  I'm really excited to see the students invest in building a culture of service, high standards, and professional development
– Build relationships, and be a resource by providing opportunities for musicians in this region
Long-Term Goals
– Curriculum restructure for the BME degree program to add specializations and enhanced conducting curriculum
– Expand our instrumental ensemble offerings; add another band that is focused on non-majors and/or BME students performing on secondary instruments
– I would like the Symphonic Band to continue to join consortiums for new works, begin touring, and grow to be an outstanding ensemble in the region
10. What has been one of your biggest challenges thus far?
It has been a really good challenge to get to know my colleagues, students, directors, and the musical community.  I have moved across the country several times but I've always had a connection or friends in that new place.  At the time, it was really difficult to move from Colorado because we left a great friend group/community and we really didn't know anyone here yet, but that is changing and we've met a lot of wonderful people!
It goes without saying, but I've found this spring to be incredibly challenging.  I felt great momentum going into our final concert of the school year with the Symphonic Band; I'm so proud of the progress we made last year!  While I feel good momentum still, it has been a huge challenge to teach remotely — all of our lives have been impacted so drastically and I'm really missing the one thing that keeps me grounded as a human: live music making.  So, I'm really looking forward to making music with my students again soon!
11. How did you decide on pursuing music education and then proceeding to the collegiate level?
I feel really lucky because I just knew that I wanted to study music education and become a band director.  I was surrounded by fantastic music/musicians in Chicago and began studying conducting more seriously, then I attended my first conducting symposium and was inspired to keep going.  My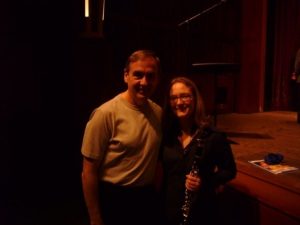 undergraduate band director, Dr. Richard Fischer, spent so much time with me talking through repertoire, studying scores, and giving me extra conducting lessons.  I think that he was the one that opened my eyes to a path to collegiate teaching and encouraged me.  He also told me about exciting opportunities that I auditioned for that led me to playing at: Carnegie Hall with the National Youth Wind Orchestra, conducted by H. Robert Reynolds; and at CCM with the International Youth Wind Orchestra coordinated by WASBE (World Association of Symphonic Bands and Ensembles).  That was a special experience because we performed Symphony in Bb by Paul Hindemith, both Holst Suites, and Lincolnshire Posy by Percy Grainger and were conducted by Donald Hunsberger, Frank Battisti, and H. Robert Reynolds, respectively.  This experience was all professionally filmed and made into a DVD package called The Three Icons.  As a forever student, I was excited to keep studying conducting, band, and music education at IUP and at CU.
12. What advice would you give someone just starting their teaching journey that you wish you had known when you started out?
Take the time to study, practice, and experience music any time that you get the opportunity.  I miss having the opportunity to practice clarinet from 10pm-2am (that was my preferred time in undergrad because I had access to the large spaces!).  Also, this profession is so wonderful and complex that there is NO WAY to ever know everything!  It is important to build a community of people, mentors, professors, peers, fellow teachers, etc. so that you feel comfortable asking questions.  I ask questions all the time but felt bad about it when I was a younger teacher.
13. As you approach teaching and/or performing, is there a philosophy that shapes your style?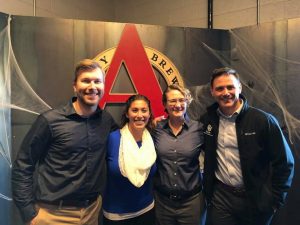 How many pages am I allowed to spend on this question?  I find that my philosophy is in constant flux as an educator.  I have certain solid beliefs and principles that provide good infrastructure but I find myself constantly adapting and growing.  I believe in the power of music, I believe that music brings us together in a magical way, and I have found that life without making music with other people (such as we have experienced from March-present) is not as fulfilling for me and for all musicians that I've spoken with.  I am process-based, not product-based.  I believe that performance is the time to take musical risk and that with each piece of music we study, we become just a bit wiser and more experienced in life.
14. If you were asked to do a presentation to people who knew nothing about music or music education, how would you describe your field and explain what makes it special?
I would start the presentation by talking about community.  We would go further into music as a universal language, then a brief history of how humanity has always made music from the beginning, and that music is powerful and transformative.  I would also state my belief that every single person on this planet would be better if they would make music: singing, playing, collaborating, problem-solving, practicing, failing and trying again, expressing oneself, succeeding, critical thinking, communicating, advocating, etc — the list really goes on and on.  This is why music education is SO ESSENTIAL in all of our schools.